Description
Vascupaint™ lead-free silicone injection compounds fill and opacify microvasculature structures for visual inspection (following alcohol based tissue clearing) or 3D imaging with brightfield microscopy, micro-CT, or fluorescence imaging. The injection compounds are available in many different colors including yellow which also allows micro-CT imaging. We recommend our green or blue Vascupaint for tissue clearing experiments. Other colors are available upon request.
Vascupaint™ is a less viscous alternative to conventionally used lead-based compounds making it easier to perfuse non-surviving organisms as well as human organs for ex vivo 3D vascular cast analysis.
Download the Vascupaint Protocol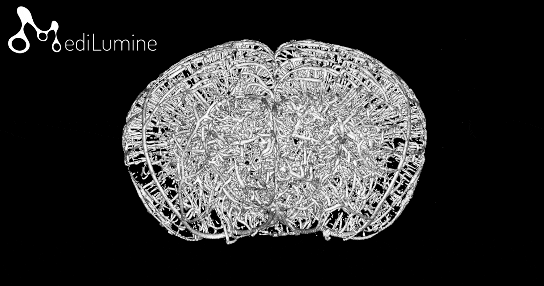 The 3D reconstructed images were obtained from microCT images acquired on a MILabs U-SPEC/CTUHR imaging system. Brain samples were prepared by Dr. Sean Marrelli (UT Health) following perfusion with Vascupaint™ yellow silicone injection compound, harvesting and preservation in agarose.